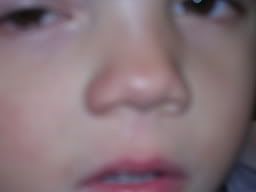 Things are quiet in the Na household this week--partly because Mr. Na caught a really bad cold. It's nasty. I had forgotten about the amazing amount of snot one child can generate when sick. Mr. Na is no exception. He's got green boogies oozing out of his left eye and his nose is plugged into his little brain.
Of course you know what that means...Pa and Ma to Na are sure to follow with sickness. Great! The thing I hate the most is that my kid gets sick for all of five minutes and I wind up being sick for weeks! It'll suck for Pa, too, since he'll be starting a new job in two weeks.
On the plus side, we all got to play with Dave Matthews and his daughters on the playground this past weekend. I had a chance to tell him about how we adopted Mr. Na from Ukraine and he thought that was pretty cool. You betcha sweet bipee it is! I love this little guy...snot and all!