I'm in love with a children's TV show character...again.
The first time it happened, I was, I think, four--no maybe six. I had to have been a little older because I had a diary and I can remember writing entries about him: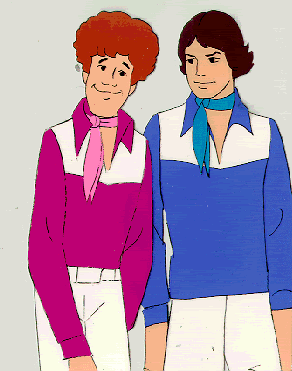 Not the guy on the left
. Ew. And no, they weren't lovers. My guy was Butch Cassidy from Hanna Barbera's
Butch Cassidy and the Sundance Kids
. (circa 1973). The dude on the left was his best friend, Harvey who, coincidentally, was voiced by Micky Dolenz. I say "coincidentally" because it was around that same time I was in love with Michael Nesmith from the Monkees, too. (Oh, and another thing...now that I think about it, Butch looks
a lot
like my ex-husband).
This time, my crush isn't over a cartoon character, but a live action guy named Sportacus on
Lazy Town
:

Although this Adonis deserves more real estate on my blog than given, I can't seem to find a better photo. But trust me, he's all that and a bag of chips. I'm not the only one who thinks so either. You should get a load of some of the comments I've run across in the Blogosphere. Yep--Sportacus is hot. Funny thing, though, I read the actor's bio on Nick Jr. and in reality...feh...not so hot! Granted, he was a Silver Medalist in something like Aerobics for Iceland (his homeland).
Aside from his yummy physique, Sportacus is teaching Mr. Na (and children around the world) that getting up and being active is important and eating sugary snacks...not so good. So he's perfect in every way.
Lazy Town
is pretty bizarre and from the moment I first saw it, I knew it had to have been foreign (it's produced in Iceland). The show is skewed toward 2-5 year-olds yet it has a driving techno soundtrack and the main character, Stephanie, has pink hair. Still, it reminds me of the bizarre crap produced by Sid and Marty Kroft--particularly
The Bugaloos
and
HR Puffinstuff
. I would say this was a combination of both, except those shows in the 60s were more about psychadelic head trips and less about promoting a healthy lifestyle.
Honestly, though, Lazy Town is not such a bad little show--providing entertainment for the kid and eye candy for the mom.