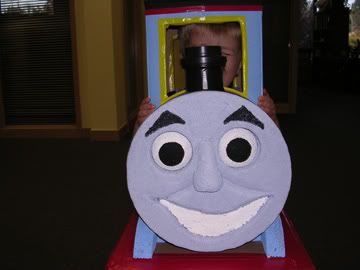 Mr. Na experienced his first Halloween on Sunday and I'd swear the kid was a natural. Once he learned that he could score a piece of candy by saying "trick or treat" neither my husband or I could keep up with him. Luckily at his age, it was all about the thrill of the hunt and not the feast. I've seen this child on sugar and it's frightening!
The bad news is, we're sitting at home with three large bags of candy and I'm in the throes of PMS. If that isn't bad enough, Bush was re-elected for a second term. Shit happens in threes.
If you've read my earlier posts about Halloween, you'll recall that the hubster and I grew up wearing poorly-designed costumes made from either boxes or something found deep in the back of our moms' closets. We passed our tradition on to Mr. Na, creating a Thomas the Tank costume made entirely of cardboard boxes and styrofoam. I will say, since it was more his sweat and toil than mine, that the outcome was amazing. Not only was Mr. Na the spotlight of attention at our local shopping center, but I was also the envy of all moms when I boasted about my husband's talent. It's one of the reasons why I married a geek engineer.
I need to gloat about something, dammit, my hope for regime change has been shattered!