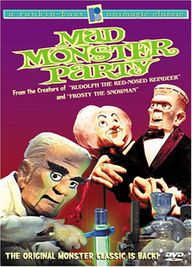 I'm a sucker for the old Rankin/Bass TV specials, but my favorite--which happens to be my favorite Halloween movie--is
Mad Monster Party?
The "animagic" in the show is a little clunkier than, say,
Rudolph the Red Nosed Reindeer
or
Santa Claus is Coming to Town
, but the characters are so awesome and the soundtrack is pure kitsch from the late 60s.
The legendary Boris Karloff lends his voice as Baron von Frankenstein and Phyllis Diller voices "Thang's" wife, who has that unforgettable laugh and is decked out in Go-Go boots.
Someone actually gave me the movie on VHS as a gift several years ago and when I saw that it had been reissued on DVD, I couldn't wait to get it and watch it with Mr. Na--who's fast becoming a fan! The DVD version is amazing, too, which makes watching it even more pleasurable!