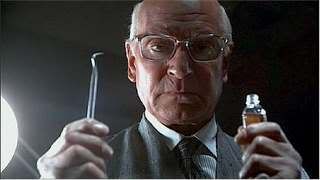 Earlier today I had four wisdom teeth pulled which, all things considered, really wasn't that bad. I was surprised when they started me off with nitrous oxide, followed by twilight drugs, and then they sent me packing (or packed---in gauze that is) with enough Percoset to make Matthew Perry reconsider rehab. And yet--and yet--my Colposcopy, which is scheduled for November 13, involves no drugs unless, of course, I save these nasty 'sets for then, which is maybe what I'll do since I really and truly don't need 'em now. Hell, I still have a desire to run the Dawg Dash on Sunday.
Ask me in about 8 hours from now, though!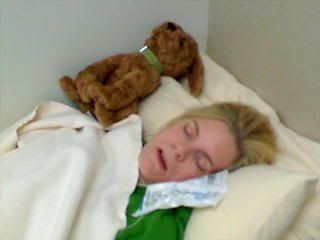 My dear husband took this while I was still under. Nice, huh?
Rent-a-pooch courtesy of Dr. Tidwell.
Anywho, Na and I had a nice time in the O.C., catchin' up with the crew and goin' to Dizz Knee Land. This was the first time I tried California Adventure and while it ain't no Magic Kingdom, it's definitely good for the little 'uns. Na loved "meeting" Kitty and Boo and Woody and Buzz and Frozone and Bear in the Big Blue House. I thought his head was gonna explode when he "met" Mater and McQueen from Cars. I loved the Muppets in 3D. How could you not?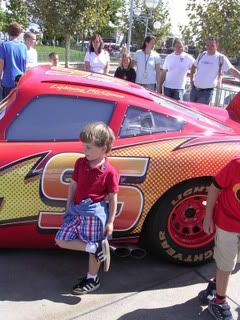 He still enjoyed the Magic Kingdom and for me, well, you can totally tell Disney is changin with the times. The Swiss Family Robinson lost the lease on their treehouse and it now belongs to Tarzan and there's talk that Tom Sawyer's island will be converted to a Pirates Playground. It's bad enough they added Johnny Depp to the Pirates of the Carribbean! Pirates are NOT SUPPOSED TO BE HOT! Especially fake ones!
I had serious mixed emotions about Disney changing the Haunted Mansion for Jack Skellington and his gang from The Nightmare Before Christmas. Hey--it's not a bad little movie, but it disturbed me when we were all in the elevator and I did NOT hear "There are no windows and no doors!" No worries, though, I asked one of the dead guys at the door who told me it was just for the season. Phew!
If you go with little kids to Disneyland, do yourself a favor and book a package through their site. The value was enormous and we got to do the character breakfast at Goofy's Kitchen at the Disneyland Hotel which was phenomenal! You wanna talk cupcakes, K10? These were GOOFY'S CUPCAKES, liebschen. 'Nuff said!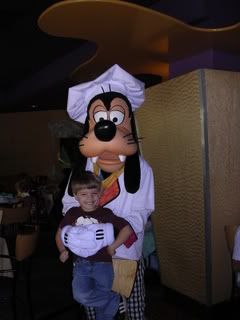 The main reason I went to Orange County was to go to my 20 high school reunion which SUCKED MAJOR ASS! If it hadn't been for seeing two of my high school buds (one being a lifelong dear friend the other being my prom date) I would have bailed within two minutes of walking in. Serously. It was THAT bad.
Let's put it this way: my friend and I DID NOT (I repeat) DID NOT tell each other about our dresses until she was in the car coming to meet me at the reunion. So we both had "O" dresses. By the end of the night, people were calling us "Big O" and "Little O". Sigh. Some things never change except maybe that of the dozen or so women there, at least 15 of them put on about 40 pounds since high school.
So here I lie with four stinky gum holes and no chance of eating anything solid today and feeling hungry because of the blood seeping into my stomach. Ew, I know but it's nice to share with you, dear reader! I'm watching movies on my laptop and icing every 20 minutes. Don't you wish you could be here too?